Australian Medical Council MCQ | Batch 37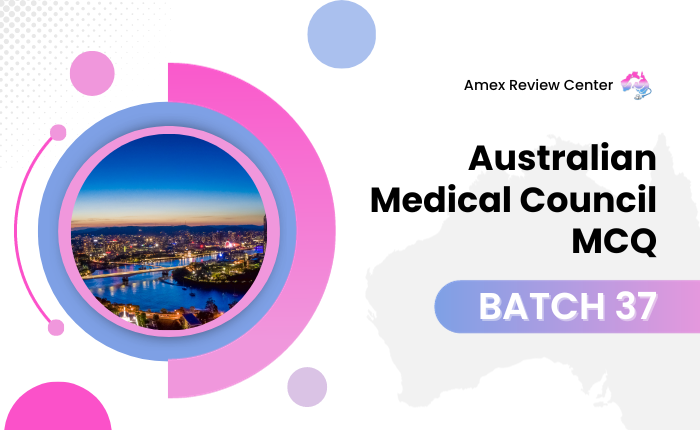 About Course
Batch 37 | January 22 – March 15
Our goal is to be a well-equipped review center for local and international medical professionals that could expertly bring to its highest state, their level of global competence, mental preparedness, and good holistic values that are vital to lay a solid foundation in reaping a consistent high mark rating in the Australian Medical Council Multiple Choice Questions (AMC-MCQ). The consistent value is to be an institution that spells out Integrity and Excellence in our field of endeavor.
As a review center whose identity is rooted in the purpose of service and medical academic excellence, we are committed to:
Help medical professionals and students prepare for the Australian Medical Council – Multiple Choice Questions (AMC-MCQ) examination by providing a comprehensive and systematic review program.
Effectively familiarize the international medical professionals with the current Australian Medical Standard Practice; its similarities and differences as compared to other foreign countries like the Philippines, by formulating different case scenarios commonly encountered in Australia.
To train and prepare to its smallest details, the medical professionals/students with the examination techniques that by and large, would lead him/her in choosing the right answer to a specific complicated question.
To give valuable advice on topics of various subjects that need focus on
Show More
What Will You Learn?
High-yield concepts following the subjects stipulated in the AMC-MCQ blueprint, namely:

Adult Health (Adult Medicine and Surgery)

Women's Health (Obstetrics and Gynecology)

Child's Health (Pediatrics)

Mental Health (Psychiatry)

Population, Community, and Aboriginal Health

Legal Medicine and Ethics
Course Content
AMEX Review Batch 37 PRIMER
AMEX Review Batch 37 PRIMER
Pretest
Before the review starts
Orientation